Female Dump Truck Drivers in the Thar Coalfield, Pakistan
In April, the temperature soars into about 45 degrees centigrade in the Thar Desert. The fierce sun parches the whole Thar region.
Nusrat·Bayh, with a scarf on her head, is dressed in her work clothes which are designed based on the traditional long gown in Pakistan. Only about five feet three inches tall, she has some difficulty in climbing into the cab of the heavy-duty dump truck. However, it is very easy for her to belt up, adjust the rearview mirror, engage the gear and start the dump truck with the load capacity of 60 tons.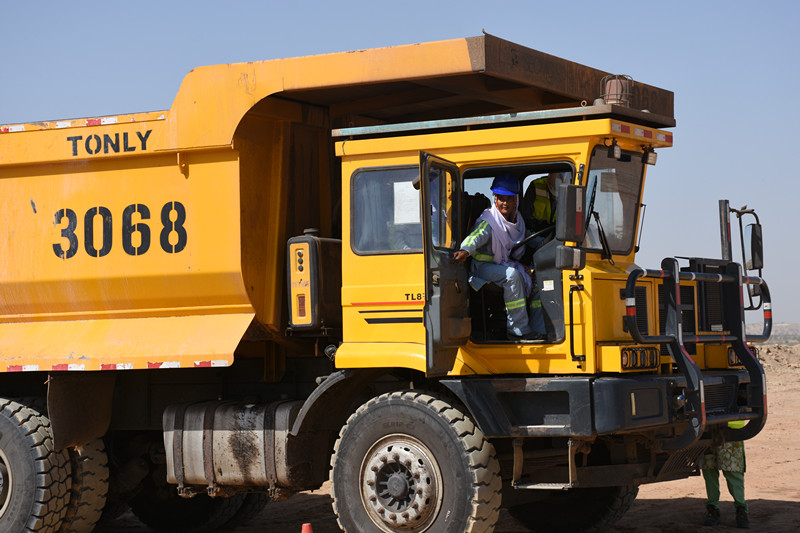 Before acting as a heavy-duty dump truck driver in the Block II of Thar Coal Field, Nusrat was a tailor in Parker County of Thar, with the monthly revenue of about 2,000 rupees (one dollar is about 142 rupees). The total monthly revenue of her husband and her was less than 8,000 rupees then.
2016 saw a turning point of Nusrat's hard life. In April of the same year, the government of Pakistan's Sindh province, enterprises in Pakistan and China Machinery Engineering Corporation formed a joint venture under the framework of China-Pakistan Economic Corridor which began to be engaged in the construction of an open pit coal mine with an annual production capacity of 3.8 million tons at Thar Block II.
Liu Zhiming, Deputy Site Manager of the Thar Block II Project, told the reporter that the significance of Thar Coalfield to Pakistan is like the significance of Daqing Oil Field to China. It allows Pakistan to use its own coal to supply power for its power plants for the first time.
Because of the depth of coal seam, a large number of dump trucks are required for sand transportation. Therefore, the Pakistani partners of the joint venture began to look for dump truck drivers. Then they noticed to the women of Parker County. "These women can fetch water from four or five kilometers away at a very high temperature of 50 degrees centigrade. If we train them well, they will be certainly excellent dump truck drivers by virtue of their strong willpower." Nasser·Maymon, General Manager of the CSR Department of the joint venture said.
Nusrat luckily became a dump truck driver trainee at that time. After a year of training, she has grown into an excellent driver now. "Now I am not tired at all after a long day's driving. Even if you bring me 50 girls, I can teach them easily."
Nusrat earns 25,000-30,000 rupees per month now. "Now I am one of the few people who can afford milk, fruits and good clothes in the county. Our life has changed greatly. It's hard to describe my happiness!"
Mosinee·Bayh is also a lucky dog. With four children, she had no job before. Her husband worked as a peddler to support the whole family. They often had little food to eat. "When I knew that the coalfield nearby is looking for drivers, and they provide the training, salary and working meals, I was so happy. If I could be hired, I could raise my children well and give them good education." Mosinee said.
However, the local people are very conservative. Womenwho work outside without the company of their brothers or husbands will be seen as "aliens". The malicious gossip made Mosinee and her husband very distressed after she participated in the training for just a few months.
"In order to support me, the project leader also hired my husband. Now both my husband and I are working for the project with a sound salary. We have sent our children to school, and we are building a beautiful house. Now the people who gossiped also want to send the women in their families to work for the project." Mosinee said.
Liu Zhiming said, there are 26 female dump truck drivers in the project totally, and more than 100 people have received the training. They have participated in the project together with the other 1000 local employees to make contributions to their hometown development while changing their own life.
Maymon said, with a good salary, the women in the family will have the right to say. They can decide to send their children to school, dress well, and make their life better through hard work. "If the women in Thar can earn their own living, why can't women in other regions of the country change their own life?"
"Through the China-Pakistan Economic Corridor project, we can bring education, medical care, clean drinking water and jobs to local people. It can be said that the generation of people in Thar will change their destiny for the China-Pakistan Economic Corridor. I have witnessed the great change." Maymon said.
Related link: