CMEC-Funded Table Tennis Hall Reconstruction Project Delivered in Maldives
Malé— on March 18, the renovation project of the Maldives' Table Tennis Hall funded by CMEC was completed and the opening ceremony was held in Malé, the capital of the Maldives.
Attending the ceremony and table tennis interactive activities were Zhang Lizhong, Chinese Ambassador to the Maldives, Ali Waheed, the Maldives' Tourism Minister and Acting Minister of Youth, Sports and Community Development, Ahmed Latheef, Ambassador of the Maldives to Germany, and Liu Xiaoda, CMEC's project representative to the Maldives.
Ambassador Zhang Lizhong said in his speech that table tennis one of the favorite sports of both Chinese and Maldivians peoples. Table tennis players from the two countries have had friendly exchanges on many occasions. CMEC's funding and construction of the renovation project reflect the strong support of China and Chinese enterprises for improving the people's livelihood in the Maldives.
Ambassador Zhang also said that the Chinese Embassy in the Maldives also donated a batch of table tennis equipment to the Maldives' table tennis association on behalf of the Chinese table tennis association to promote table tennis in the Maldives and support the training of local young athletes, hoping that the equipment could serve as a bridge of friendship between young people of the two countries.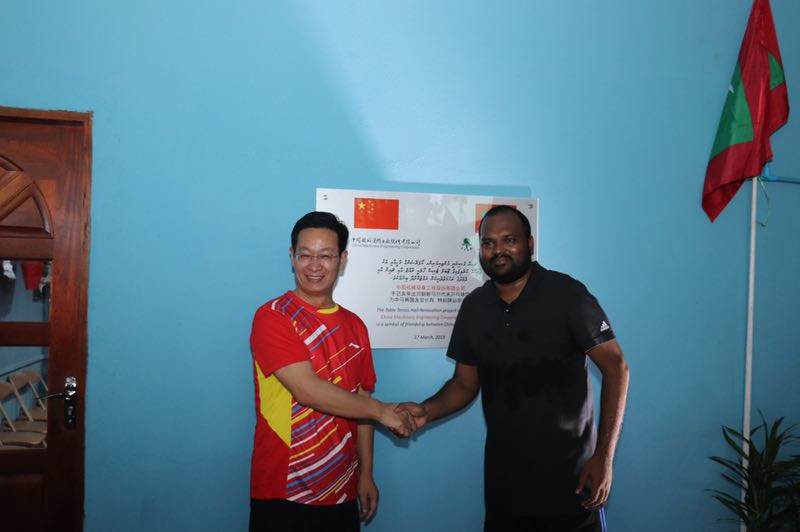 In his speech, Minister Waheed thanked China for its contribution to promoting the Maldives' economic and social development and pointed out that the Maldives is willing to work with China to carry on traditional friendship, deepen cooperation in various fields and promote the further development of China-Maldives friendship.
Liu Xiaoda said in his speech that at the beginning of the new year, the renovation project of the Maldives' table tennis hall commenced, lasting for 55 days. It is hoped that the completion and delivery of the project will help the development of the Maldives' sports, especially table tennis. CMEC is delighted to cooperate with the Maldives to jointly implement construction projects and share professional construction knowledge so as to play a positive role in promoting the Maldives' economic and social development and China-Maldives friendship.
CMEC, one of China's first large state-owned enterprises to enter the Maldives' market, has boldly taken a new approach to the China-Maldives cooperation mode. The Phase I and II projects of Hulhumalé's housing, which were first promoted and constructed with CMEC's optimal loans, have been delivered for use. They have been praised as the Maldives' "China Town" without Chinese people. CMEC has made proactive efforts to solve the housing shortage problem of local people, enjoying the applause from the Maldives' government and local people.
Now, the Phase III housing project undertaken by CMEC is under intensive construction and expected to be completed and put into use by 2021, which will play a positive role for the Maldives' new government in further carrying on and developing the traditional friendship between China and the Maldives.
Relevant links are as follows: