Everlasting Friendship of China and Sri Lanka— An Interview with Asoka Pereira, Chief Engineer of Atana Water Plant
"Water is the source of life, and clean drinking water is essential for living. The Atana Water Plant, funded and built by the Chinese side, will solve the problem of clean drinking water for 600,000 local residents and ensure the healthy life of local people. It will play a positive role in addressing the chronic kidney disease that has long plagued local residents." Asoka Pereira, Chief Engineer of Atana Water Plant, said to reporters from both China and Sri Lanka who came for the interview.
I. We shall look at the issue of Chinese and British standards from a development perspective
Asoka is the chief engineer assigned by the Water Supplies Bureau of Sri Lanka to assist the China Machinery Engineering Corporation (CMEC) for the Atana Water Plant Project. At the water plant station, he accepted a joint interview with media from both China and Sri Lanka, including (Hong Kong) Asia & Pacific Communication, Ceylon Chinese Newspaper, Asia-Pacific Focus, and Colombo Bulletin, etc. He had a frank dialogue with the reporters on such issues as mutual beneficial cooperation between China and Sri Lanka, and many practical issues encountered during project implementation, including dealing with the relationship with residents in surrounding areas, Chinese and British standards, and how Chinese and Sri Lankan engineers and technicians get along.
During the interview, Yang Wei, the on-site manager of Atana Water Plant, first briefly introduced the situation of the water plant. He said that the Atana Water Plant, located about 40 kilometers north of the capital Colombo, is a key project of priority supported by the Sri Lankan government and is also the largest single water plant project to date. The contract value of the project is about 230 million US dollars, including the construction of a water purification plant with a daily processing capacity of 54,000 tons, a water intake facility with a daily water supply capacity of 85,000 tons, and supporting comprehensive infrastructure for the supply and laying of 720 kilometers of pipe network. Water supply of the project covers 397 square kilometers. At present, the project has completed about 50% of total work amount. In the near future, a modern water purification plant will be completed and put into use, which will benefit more than 600,000 people.
Then, Asoka, who was straightforward, took over the subject. He said that he had worked for European and Japanese companies for a long time, and this was the first time to work with Chinese colleagues for Atana Water Plant. CMEC has a good corporate culture and pays great attention to creating a relaxed working atmosphere for employees, so that everyone can do their best for company development in a pleasant environment. He said that since he participated in the project in 2015, he has finally had a relatively stable job, improved his professional ability and enriched knowledge. Of course, he has also assisted Chinese friends in solving many practical problems.
When talking about the issue of British standards, he said that Sri Lanka has always adopted British standards. Local engineers and technicians have learned British standards from school and used them at work. They know the British standards very well and little about Chinese standards, so they have to spend a lot of time in research and comprehension. From a technical perspective, there is not much difference between the two sets of standards. In the past, Chinese standards were slightly different than British standards. However, China has developed so fast in recent years with rapid scientific and technological progress, while the United Kingdom has remained stagnant. Some of the British standards are even outdated in actual work. Therefore, we have to combine the two standards together to advance the project smoothly and do a better job.
II. Unremitting efforts in public welfare undertaking
Asoka said that unlike many other countries, China and Sri Lanka share similar historical background and the traditional friendship has a long history, which explains why it is easier to communicate and reach mutual understanding between the two sides in practice. CMEC has done a particularly good job in dealing with the relationship with local people and residents near the station. They not only pay attention to the project quality, but also concern themselves with local staff and residents. Everyone knows that the water plant project is among those which are most close to the people's livelihood, and the local people have high expectations of it. In the vast majority of cases, CMEC management have considered and handled problems from the perspective of the local government and the public, always lived in harmony with residents around the station, and insisted on participating in public service activities.
When it came to public welfare, Asoka said that Japanese and Indian government agencies and companies located in Sri Lanka are very fond of public welfare activities. Public welfare donations and grants are commonplace. Of course, some well-known Chinese companies like China Harbor, China Geology, Hunan Construction Engineering and AVIC International have also done a lot of public welfare activities which are often reported by newspapers. It is worth mentioning that CMEC has made public welfare activities a regular item on their schedule. Last year, a serious flood struck Sri Lanka. CMEC was the first foreign company which donated disaster relief supplies to affected people. They transported many materials in several trucks to the hardest hit areas around the Atana Water Plant and helped local residents to tide over the difficulties, which was praised by the local government and the public. CMEC donated a diesel generator set two years ago. Not long ago, they donated a batch of water purification equipment to Mihintal Temple and residents of surrounding areas in the north-central part of Sri Lanka to help solve the problem of clean drinking water, which was highly praised by local monks and the public.
III. The story about China-Sri Lanka friendship will never end
When talking about the friendship between China and Sri Lanka, Asoka had a lot to say. He said that with the help of the Chinese side, Sri Lanka ended its civil war in 2009 and ushered in a precious opportunity for peaceful development. With the support of funds from China and Chinese companies, post-war reconstruction in Sri Lanka has quickly achieved results. In just a few years, the expressway to Colombo International Airport was completed and put into operation, which has made the dream of several generations of Sri Lankan people come true; the southern railway has been constructed into the best one among the railways built in the past 100 years; the completion of Colombo port city will lay a foundation for Colombo, capital of Sri Lanka, to become the financial center of South Asia; and the opening of the southern expressway extension line will make the southwest and southern regions become the leading areas for economic development and boost the take-off of Sri Lankan economy.
Asoka pointed out that there are numerous construction projects aided by China, such as Bandaranaike International Conference Center, the Lotus Theatre, Faxian Stone Village built in the 1980s, China-Sri Lanka Friendship Village completed at the beginning of 2018, the newly completed office & teaching building of the Sri Lanka Military Academy, and the comprehensive outpatient building of Colombo under construction. There will be more collaboration projects for people's livelihood like Atana Water Plant. The story about the friendship between the two peoples will never end.
At the end of the interview, Asoka summed up that no matter how the world changes, the friendship between China and Sri Lanka will remain unchanged. Sri Lanka's development needs and cannot be separated from China's support, and will benefit from the great opportunities for development released by the "Belt and Road" Initiative. When drinking water, think of its source. The Sri Lankan people will always bear in mind the selfless contribution of the Chinese people.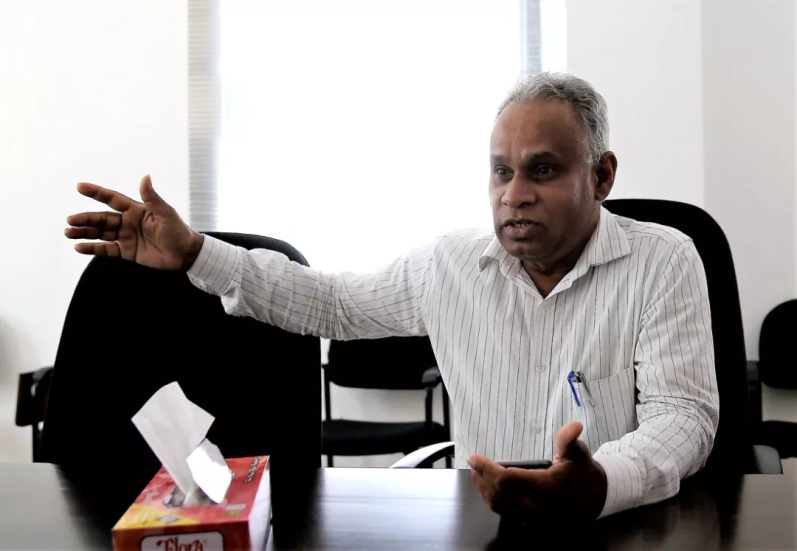 Asoka was interviewed by reporters from both China and Sri Lanka at Atana Water Plant Photo taken by Qiao Zi
Related links: