CMEC Group Signs Contract for Installation of Crude Oil Central Processing Facility Project in Iraq's Block 9
On May 27, China CAMC Engineering Co., Ltd. (CAMCE) and China Machinery Industry Construction Group Inc. (SINOCONST), member enterprises of CMEC Group, signed a contract for the installation of a central processing facility for crude oil treatment system in Iraq's Block 9 at CMEC Group Headquarters. Witnessing the contract signing were Wang Bo, Party secretary and chairman of CMEC Group; Duan Xiangwei and Xie Ke, members of the Party Committee and vice general manager; Zhao Yongjun, Party secretary and chairman of SINOCONST; and Li Haixin, general manager and deputy Party secretary of CAMCE. At the signing ceremony presided over by Xie Ke, Liu Shengcheng, vice general manager of CAMCE, and Fang Xianchao, vice general manager of SINOCONST, signed the contract on behalf of both parties, respectively.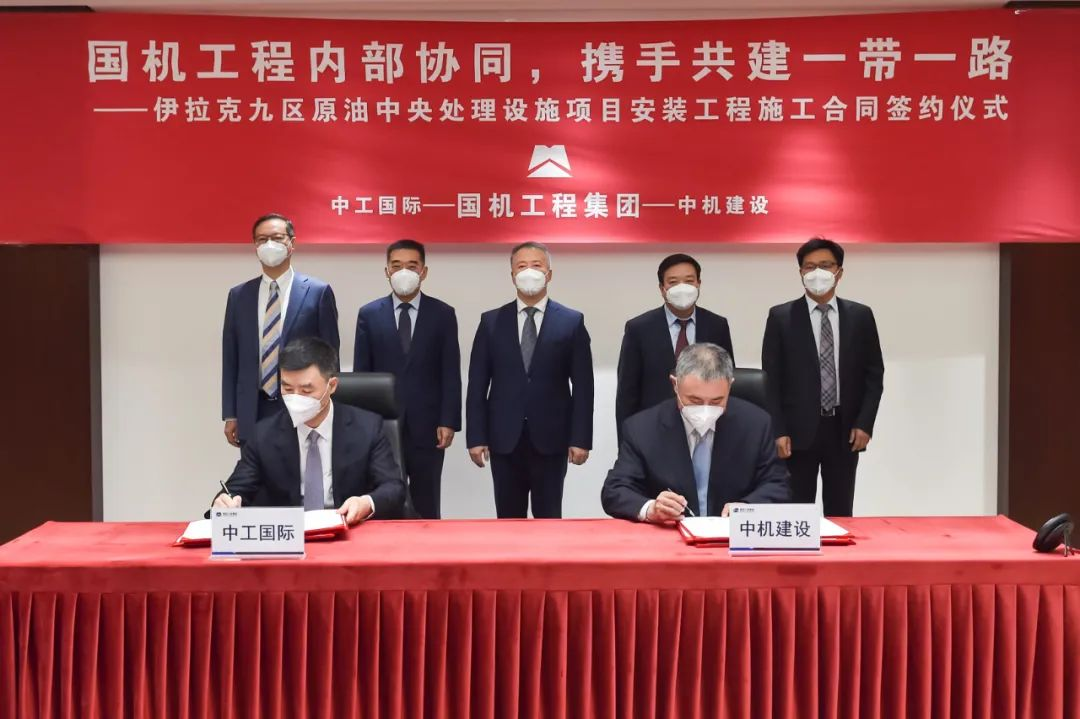 At the signing ceremony, Liu Shengcheng firstly introduced the project of crude oil central processing facility in Iraq's Block 9, the development history and current execution and thanked CMEC Group and SINOCONST for their effective allocation of resources and strong support in the project development. Mr. Liu also said that the signing marks an important milestone in the project execution and another remarkable achievement in the collaborative development of member enterprises as CMEC Group is being turned into an entity.
In his speech, Zhao Yongjun thanked CMEC Group for its efforts in internal synergy and the trust in SINOCONST as a general contractor. He said that the company will give full play to its experience in the oil & gas installation and construction in the Iraqi market. Together with CAMCE, SINOCONST, under the leadership of CMEC Group, will complete all construction tasks of the Iraqi project on time and with high quality, and make contributions to coordinating the development of member enterprises and turning CMEC Group into an entity.
Mr. Wang Bo spoke highly of the cooperation between CAMCE and SINOCONST on the Iraqi project. He hoped that both sides would seize this opportunity of cooperation in major projects in active markets and fields. The leadership teams of the two member enterprises would attach great importance to the execution of the project and give full play to their respective strengths. They will build the project into a model of collaborative development for other member enterprises, continue to replicate the successful model and join hands to develop new projects and score new achievements.
Wang pointed out in his speech that the signing of major oil & gas projects in Iraq is of strategic and practical significance to turning CMEC Group into an entity and advancing the coordinated development of member enterprises. All member enterprises under CMEC Group should strengthen the specialized synergy and healthy interaction to explore their potential resources and capabilities. In the synergistic development, they should prioritize efficiency and uphold the spirit of contract to contribute more to the development of CMEC Group.
Also attending the ceremony were leaders and employees from functional departments of CMEC Group Headquarters; Engineering Management Department and 1st Plants Division of China CAMC Engineering Co., Ltd.; SINOCONST and China Machinery Engineering & Construction Corporation.