CMEC Signs Contract for Bangladesh North Dhaka Waste-to-Power Project
On December 1, CMEC General Manager Fang Yanshui witnessed the signing of a contract between CMEC and the Government of the People's Republic of Bangladesh, North Dhaka City Government (NDCG), Bangladesh National Grid Corporation (BNGC) and Bangladesh Power Development Board (BPDB) on the North Dhaka City Waste-to-Power Project in Bangladesh via video conference.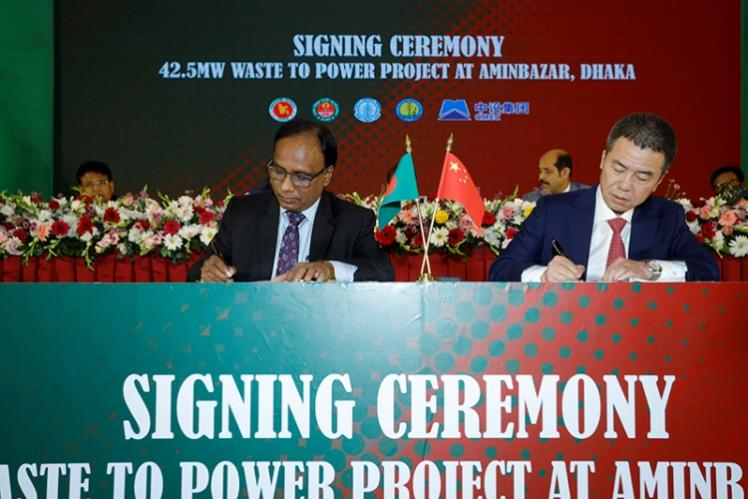 The North Dhaka project, developed by CMEC under the investment-construction-operation model, has a daily capacity of 3,000-ton domestic waste and is expected to be the largest waste-to-power project in the South Asia region upon completion. After the commissioning, it will meet the electricity demand of about 1.1 million people while solving the domestic waste disposal problem of 6 million people in North Dhaka. Therefore, it will bring benefits to the local people's livelihood.
The signing ceremony brought together nearly 300 guests including Chinese Ambassador to Bangladesh Li Jiming, Counsellor Liu Zhenhua of Economic and Commercial Office, Minister Tazul and Senior Deputy Minister Uddin of Rural Development and Cooperatives of Bangladesh, Minister Nasrul and Deputy Minister Habib of Ministry of Power, Energy and Mineral Resources of Bangladesh, Mayor Athi of North Dhaka City, and Chairman Belayet of BPDB in Dhaka City.
At CMEC Building, witnessing the signing were Bangladesh Ambassador to China Mahbub Uz Zaman, Vice President Xin Xiuming of China International Contractors Association, Vice President Shi Yonghong of China Chamber of Commerce for Import and Export of Machinery and Electronic Products, Vice General Manager Zhou Shangzhi of the First Business Department of China Export & Credit Insurance Corporation, and representatives of partners such as CNIC International Corporation Limited, Shanghai Kangheng Environment Co., Ltd. and DBS Bank (China) Limited.
Prior to the signing, GM Fang Yanshui had a cordial meeting with Ambassador Mahbub Uz Zaman. On behalf of CMEC, Mr. Fang welcomed Mr. Mahbub Uz Zaman and gave a detailed introduction of CMEC's development history, overseas engineering projects and SINOMACH's advantages in solid waste treatment. The Ambassador expressed his appreciation for CMEC's comprehensive strength and international management capability, congratulated both sides on the successful signing of this project, and invited CMEC to participate in Bangladesh's engineering construction in more fields to facilitate the economic development and improve the people's livelihood.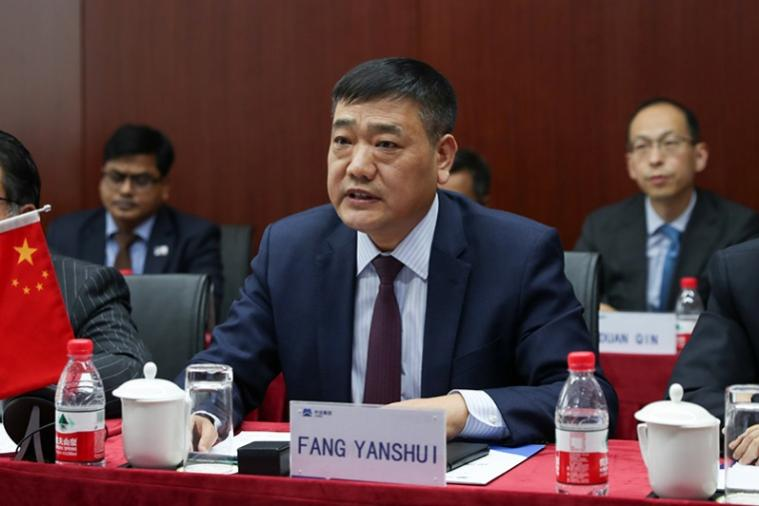 In his speech at the signing ceremony, GM Fang mentioned that, guided by the green "Belt and Road" Initiative and the goal and vision of carbon peaking and carbon neutrality, CMEC has been boosting the development of green, low-carbon and sustainable projects by taking advantage of its professional capabilities and overseas localized resources. It has taken nearly one year since the project was awarded. The project has finally been signed, which is of great significance to CMEC's future business transformation and upgrading in overseas markets along the "Belt and Road" routes. On behalf of CMEC, GM Fang thanked the Chinese and Bangladeshi governments for their great attention and support to this project and promised to deliver a satisfactory result to the Bangladeshi people with the utmost efforts and sincerity.
Also witnessing the signing were CMEC Vice General Manager Tong Zigang, CFO Zhang Zhiliang, Vice General Manager Xie Ke, Vice General Manager Li Kan and other CMEC leaders.