Belarus Fast & Maz Gearbox Plant Put into Operation as Planned
On December 31, 2020, the Belarus Fast & Maz Gearbox Plant undertaken by CMEC was successfully put into operation as scheduled in the China-Belarus Great Stone Industrial Park. As a key project of China-Belarus Industrial Park, the plant has been a landmark of the successful industrial cooperation between China and Belarus. Gearboxes produced by the plant will be assembled on Belarusian Maz trucks, which will sharpen the competitive edge of Belarusian Maz Auto Group and help the China-based Fast Group and the Belarusian Mazi Group to expand their presence in the international market.
Under the EPC contract, CMEC was required to complete a plant area of approximately 2.9 hectares with a construction area of approximately 9,000 square meters within the 15-month period stipulated, which covered building facilities such as production workshops, office buildings, cafeteria, fire pump station, sewage treatment station, fire pump house, hazardous chemicals warehouse and guard room.
The contract came into effect on September 30, 2019, while construction drawings was completed and the construction permit was issued on February 27, 2020. During the construction period, the project department was confronted with obstacles and difficulties caused by the COVID-19. Under the care and guidance of SINOMACH and CMEC leaders, it maintained communication with the owner, took relevant measures and conducted anti-epidemic cooperation in advance, ensuring the construction progress and quality of the project. All the staff worked overtime and overcame many difficulties to successfully reach the project goal of starting construction, completing the project and putting it into operation in the same year, accomplishing the tasks of project operation and epidemic prevention in a high-quality manner. CMEC members' overall planning, scientific and effective organization, and spirit of going all out have won unanimous praise from owners.
The successful production has boosted the confidence of CMEC personnel abroad in epidemic prevention, which has demonstrated the down-to-earth working attitude of CMEC overseas employees rising to the challenges of the epidemic.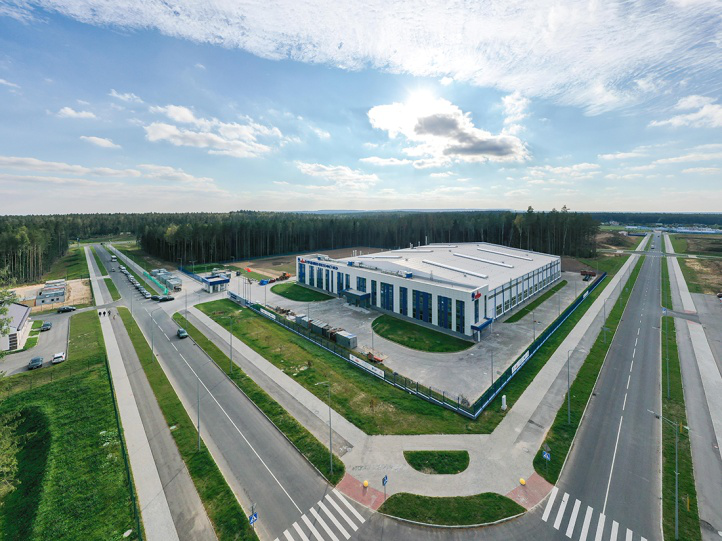 (Panoramic image of the project)
(Exterior view of Fast Gearbox Plant)