CMMC Gets Approval for Special Pressure Vessel Manufacturing
Recently, China Machinery Metal Jiangsu Co., Ltd. (CMMC), a shareholding enterprise of China Machinery Industrial Products Co., Ltd. (hereinafter referred to as "CMIPC"), an affiliated company of CMEC, has successfully obtained the "Production License of Special Equipment", which is the most authoritative license of the special pressure vessel manufacturing industry and a pass for CMMC to operate in the industry. In February this year, CMMC passed the quality management system certification (IATF16949-2016) for the automobile industry. CMMC has been approved to manufacture pressure piping components.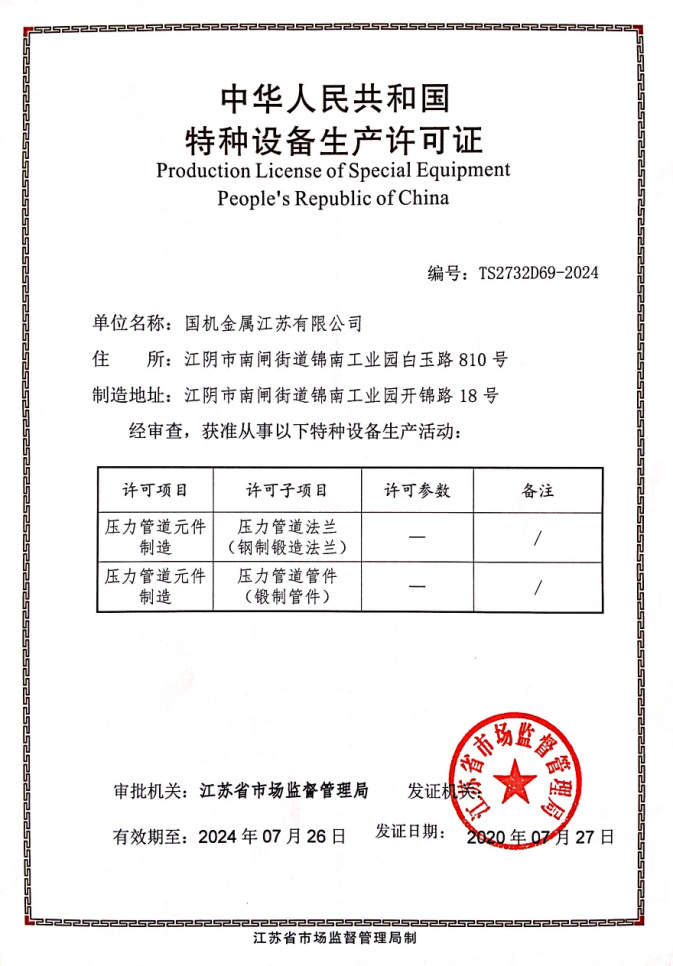 Since it was established four years ago, CMMC has pressed ahead and actively engaged in research, development and production of high-temperature alloys, corrosion-resistant alloys and functional materials, and has been committed to manufacturing of high-end high-temperature alloys and corrosion-resistant alloys. Such products are used in high-end markets and need a certification for special industries. Through persistent efforts, CMMC has obtained the three ISO certificates, and the authoritative certifications for the automobile industry (IATF16949-2016 and the "Production License of Special Equipment".
In recent years, by relying on the strong support of the project of "Application of Scientific & Technological Advances" of CMEC, CMMC has taken the opportunity of developing domestic markets by using imported advanced large-scale vacuum melting equipment and molding equipment, of which high-end products such as high-temperature alloys as well as plates, tubing, wires and forgings for making pressure vessel have been put into the market in large quantities. It is estimated that the sales amount of the CMMC is expected to reach RMB200 million in the year.
In the future, CMMC will stay true to its mission, continue to enhance its capabilities for research and development and manufacturing high-end special alloys, meet the domestic needs for import substitution, and make contributions to enhancing the basic industrial capabilities of China.