Main Section of the Phase-II Project of Serbia KOSTOLAC-B Power Station to Enter Fast Lane
Recently, as concrete pump trucks stopped roaring, CMEC's 3rd Complete Plants Division accomplished all the pouring of boiler foundation of the Phase-II Project of Serbia KOSTOLAC-B Power Station, laying a solid foundation for steel frame hoisting. This marked that the main section of the project is about to be constructed at a fast pace. The power station has been Serbia's largest and most important energy infrastructure project over the past three decades, representing a model for China-Serbia cooperation. The smooth implementation of the project has written a brilliant new chapter for China-Serbia friendship.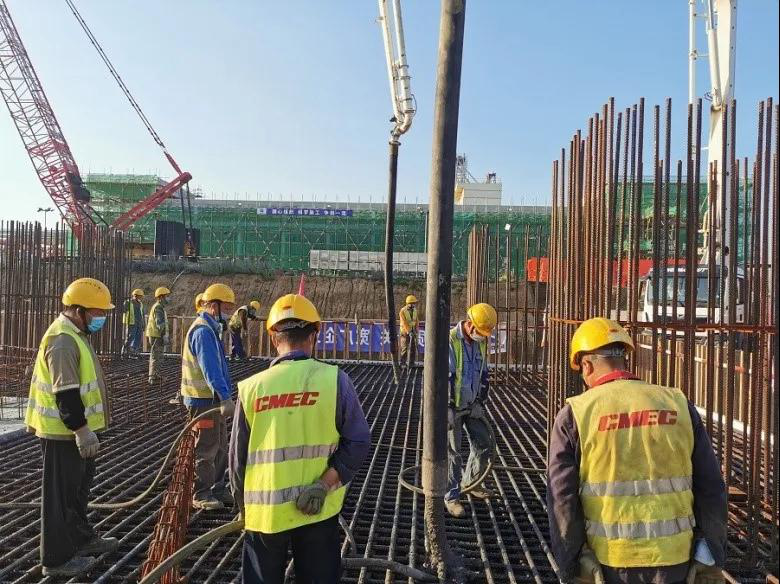 The total concreting amount of boiler foundation is 9,657 cubic meters, which is divided into 4 operation sections and constructed through the sequence method. Since the placing of the first operation section was carried out on May 15, it had taken 40 days to finally complete all the pouring work successfully.
At the turn of spring and summer, Serbia was marked by unpredictable weather and torrential rains. Because the time-consuming concreting must avoid rainy days, especially for the second and third sections that need to last for 30-odd hours, the bad weather imposed great challenges to the project.
In the face of the covid-19 epidemic and rainy weather, the project department has firmly taken a holistic working approach to epidemic prevention and control, engineering construction and internal management. The department proactively collected information from various channels, closely grasped weather changes, and made meticulous arrangements according to the on-site reality. It disclosed detailed information of concrete supply and quality control in each process in advance and prepared for placing at any time. As a good opportunity came, all the project personnel worked overtime and tirelessly, overcame difficulties, and successfully completed the boiler foundation pouring. The project department's overall planning, scientific and effective organization, and spirit of going all out have won unanimous praise from Serbian owners.