China's Boron Carbide Production Line Enters the European Market for the First Time
CRI Online (reporter Yan Wei): On October 25, the groundbreaking ceremony for a 1000 t/a boron carbide project of CMEC in cooperation with Turkey's AITI Group Mining Group was held in Bandirma, Turkey. This is China's first boron carbide production line ever exported to Europe. The project is of great significance for Turkey to reduce its dependence on foreign energy and implement its sustainable energy development strategy.
Boron carbide, also known as "black diamond", is one of the three hardest materials known so far. Due to low density, high strength, excellent high-temperature stability and chemical stability, it is widely used in many civil and military fields. Compared with the other two hardest materials - diamond and cubic boron nitride, boron carbide enjoys much wider application because its manufacturing process is more mature.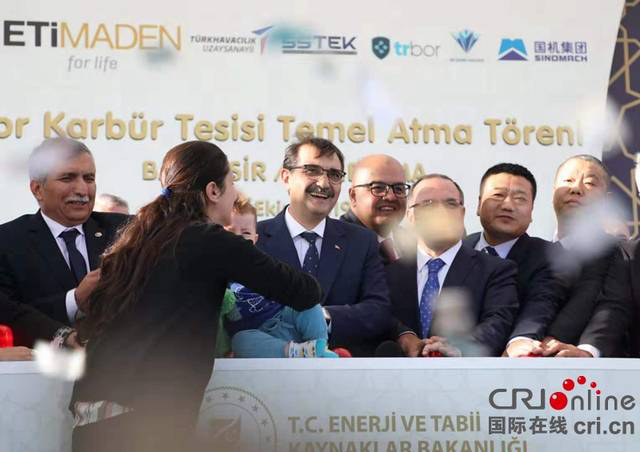 Guests at the groundbreaking ceremony
Important people attending the ceremony include Donmez, Turkey's minister of energy and natural resources; Yazici, governor of Bal?kesir province; Kelleher, chairman and general manager of Turkey's AITI Mining Group; and Fang Yanshui, deputy general manager of CMEC. The host read out a congratulatory message from Turkish President Erdogan: "I believe that this project will transform our abundant boron resources into high value-added products and will also make great contributions to the development of Turkey's national defense industry. I expect the project to be put into operation as soon as possible so as to serve our national defense industry, nuclear industry and other industries. I would like to thank all investors, including AITI Mining Group, for their hard work."
Turkey owns about 73% of the world's boron resources, but the products are mostly primary products with low added value. Once the boron carbide production base in Bandirma is put into operation, its boron carbide and other high value-added products will be used in the national defense industry, nuclear industry and many other sectors related to the national economy and people's livelihood. It will not only increase Turkey's international voice in the boron ore field, but also provide support for the development of the country's national defense industry and nuclear industry.
At the construction commencement ceremony, Fang Yanshui said that Turkey currently has the capacity to produce boric acid, but lacks the ability to convert boric acid into boron carbide. Through this project, the Chinese side will use the world's leading know-how to help Turkey to further process boric acid into boron carbide that can be used in many fields, he confirmed. "This project is of great significance for Turkey to effectively utilize its own resources for industrialization. CMEC has been operating in Turkey for more than 40 years. Previously, most of our projects were carried out in the energy and power sector. The present one is an industrial project, which is of great significance to CMEC's transformation in the Turkish market," he added.
Minister Donmez said at the ceremony that commencement of the project marks the end of an era when Turkey purchased high-value minerals at high prices and that the project is very significant in terms of investment, employment and economic development. "This cooperation model will benefit investors, increase employment, and promote Turkey's national industrial and economic development, especially the development and application of high technologies in the country," he pointed out.
Governor Yazici affirmed the great significance of the project's settlement in Bal?kesir province, saying: "We hope that this investment will make Balikesir more beautiful and prosperous, and inject new impetus into the future of the province."
The total investment of this boron carbide production base is reportedly about 70 million US dollars. First phase of the project will be undertaken by CMEC and is expected to be put into operation in two years. The construction commencement not only marks a strategic step of Turkey in transforming natural resources into high value-added products and enhancing its own strength, but also means that China's boron carbide production line has successfully entered the European market. This will undoubtedly further enhance the mutual political trust between China and Turkey.
A useful link:
https://m.sohu.com/a/349867740_115239/?pvid=000115_3w_a