CMEC Releases Its First Overseas CSR Video
CMEC officially released its first overseas CSR video "Joint Promotion, Contribution and Construction for Shared Benefits: CMEC CSR Footprint in Angola" (hereinafter referred to as the "Video"). With a three-minute trailer, the full Video lasts for 15 minutes, available in Chinese and Portuguese for dubbing and Chinese and English for subtitle. It is provided to stakeholders for reference.
The Video takes the CMEC projects in Angola as background and is field-shot from the perspectives of stakeholders such as employers, subcontractors, suppliers, local employees and local communities. It consists of four parts, namely "Joint Promotion: Create Values to Boost Economic Growth", "Joint Contribution: Protect the Environment to Construct the Ecological Civilization", "Joint Construction: Ensure Production Safety and Safeguard Occupational Health" and "Shared Benefits: Promote Harmonious Development to Contribute the People's Livelihood" to illustrate the three themes, including "Realizing Dreams in Africa by Constructing Quality Projects", "Realizing Dreams in Africa by Ensuring the Sustainable Development of Economy, Society and Environment" and "Realizing Dreams and Root in Africa to Share the Development". The Video comprehensively displays CMEC's rich responsibility practice overseas and vividly explains its social responsibility concept of "Contribution to the World with Responsibility". By building up the "12345" social responsibility system and constructing the 5-Pronged Governance System, CMEC strives to grow more creative, diversified, environment-friendly and compatible and realize sustainable development.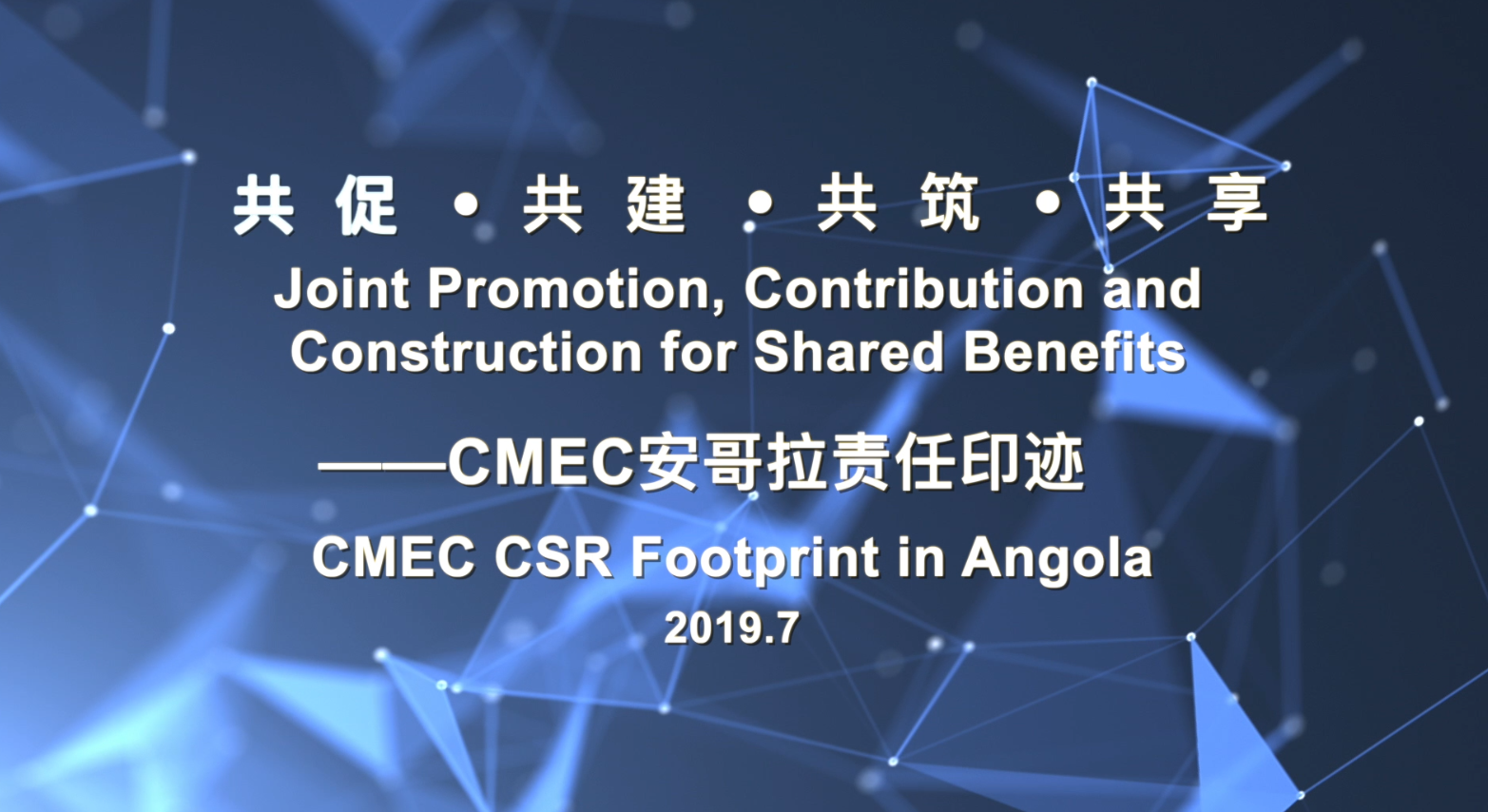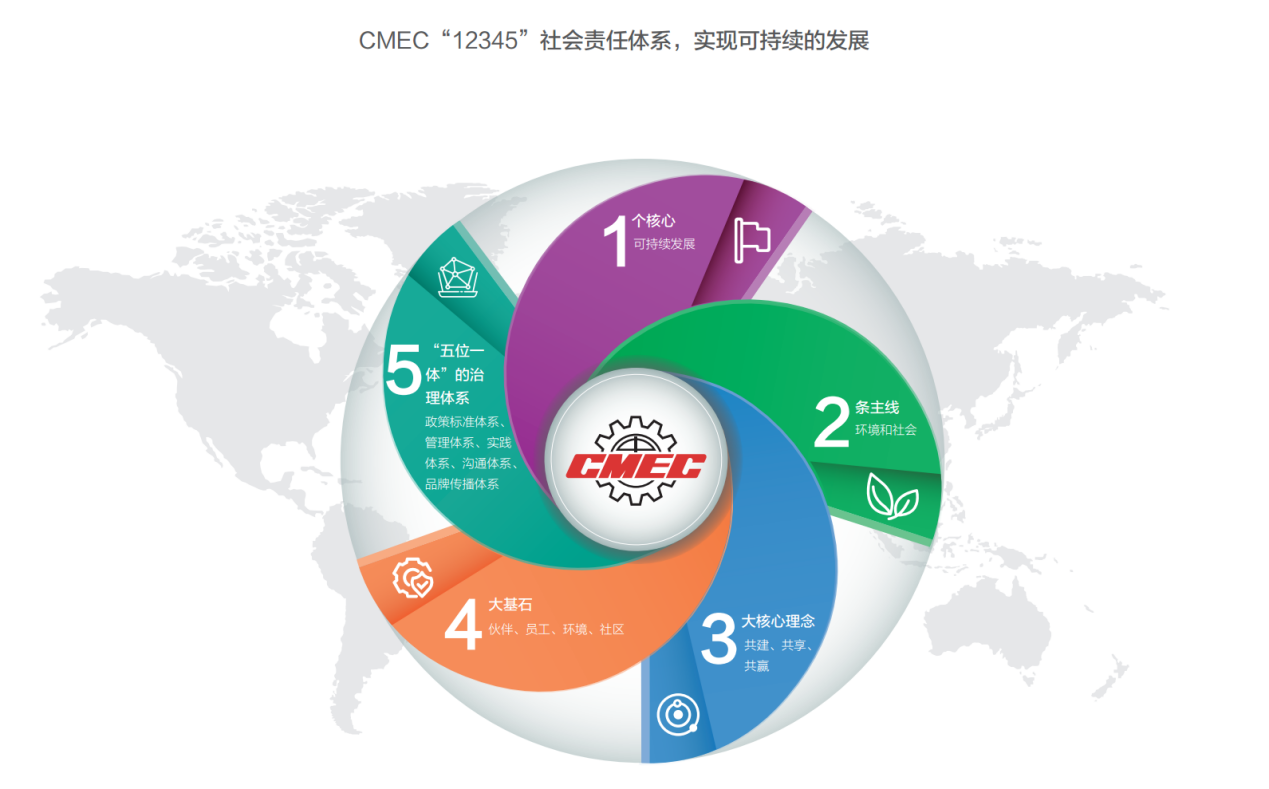 2018 marked the 40th anniversary of reform and opening up and also the 40th anniversary of the establishment of CMEC. With the engineering contracting business as the core, CMEC and its global partners have been devoted to sustainable infrastructure construction, and always striven to realize multi-win for economic, environmental and social benefits, so as to inject new vigor into the world sustainable development.
I. Actively responding to United Nations Sustainable Development Goals
CMEC is committed to promoting the implementation of United Nations Sustainable Development Goals (SDGs), takes the correct idea of moral and profit as the core, and joins hands with shareholders, investors, employees, government, customers, industries, partners and other stakeholders to strive for maximum comprehensive value in economy, society and environment by combining industrial features, its advantages and responsibility practice. It cultivates the responsibility culture, perfects the social responsibility working system, enhances responsibility communication to provide innovative solutions for economic, social and environmental sustainable development, makes efforts to realize mutual development and all-win harmony with all stakeholders, and assists in national and international sustainable development.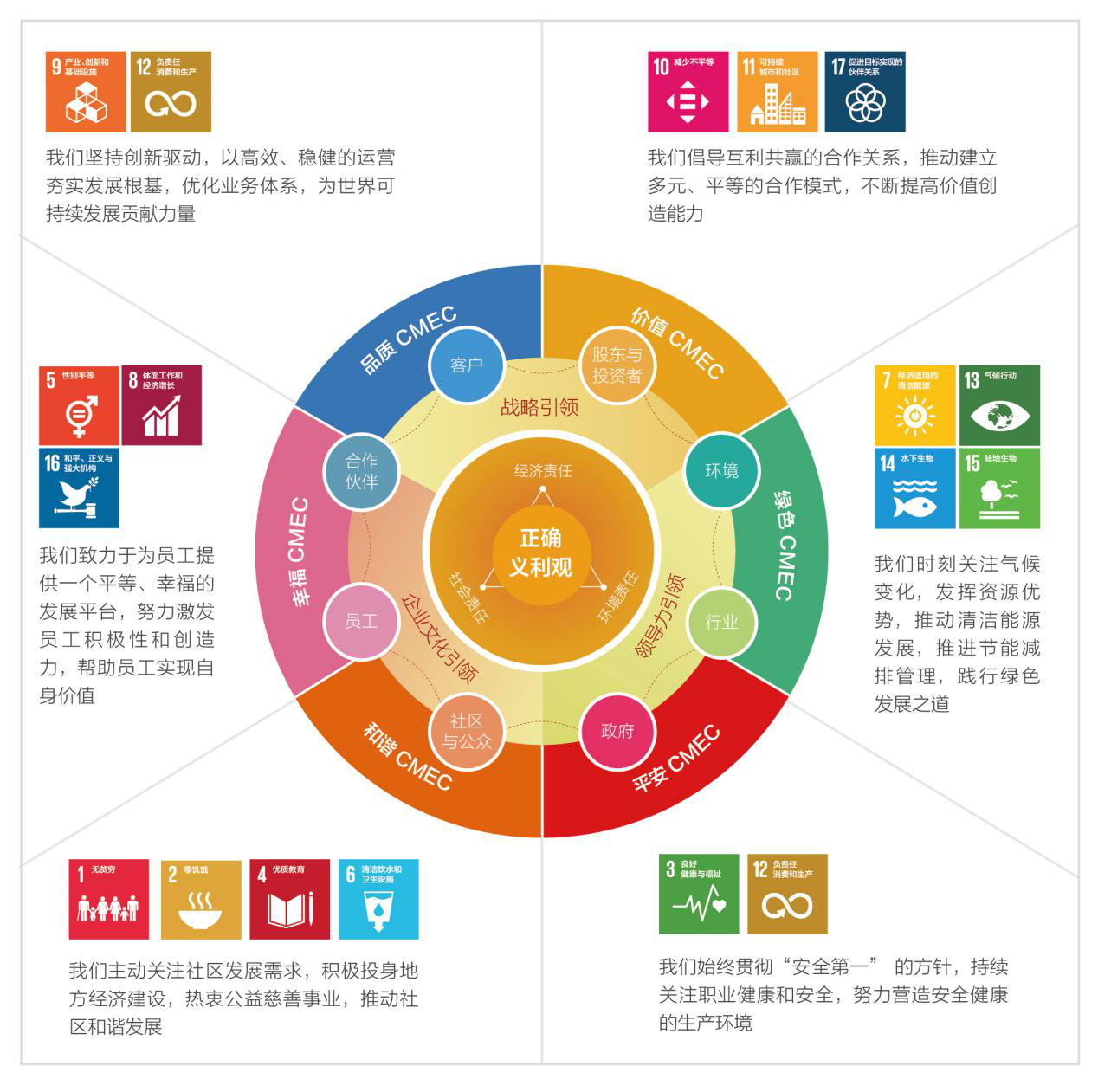 II. Practicing "Contribution to the World with Responsibility" in depth
With international engineering contracting as its predominant business, CMEC actively carries out national strategies and is based on serving the "Belt and Road" Initiative. It continues to pursue innovation-driven development, optimizes management at all levels and deepens the system reform to maintain and increase the value of state-owned assets, maximize the value for shareholders and improve the overall strength, vitality and competitiveness. It pays attention to the development need of partners and tightens the cooperation with suppliers and subcontractors to realize the targets of building up a sustainable and responsible value chain and improving the general level of the industry and to facilitate the industrial sustainable development. CMEC promotes localized operation of overseas projects by employing local employees, increasing localized procurement, setting up localized institutions and implementing construction of overseas institutions and regional centers, so as to drive local economic prosperity and social advance. It also proactively gets engaged in large-sized community infrastructure construction to help realize the vision of clean drinking water, smooth traffic on roads, life and work in peace and contentment and beautiful city and secure the infrastructure for community well-being and sustainability.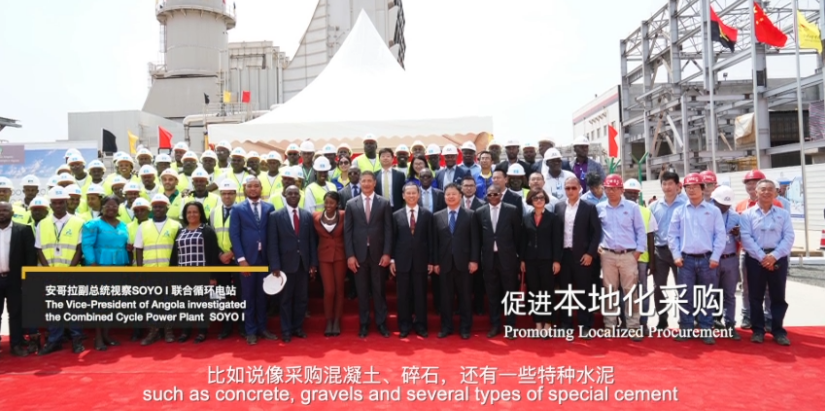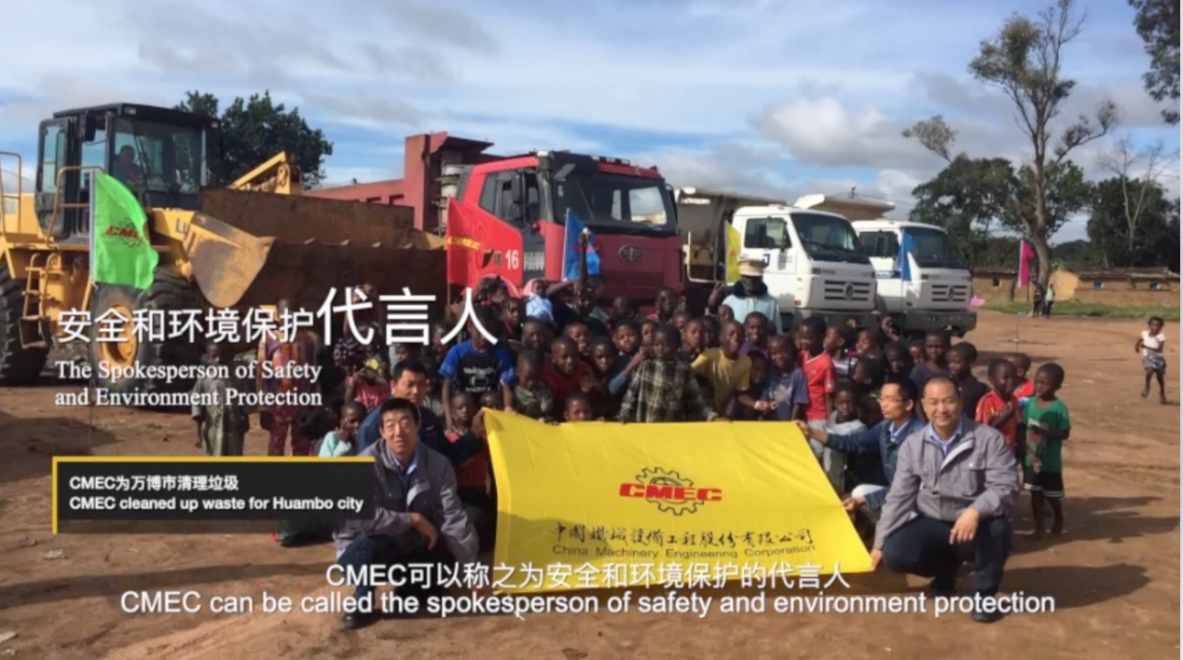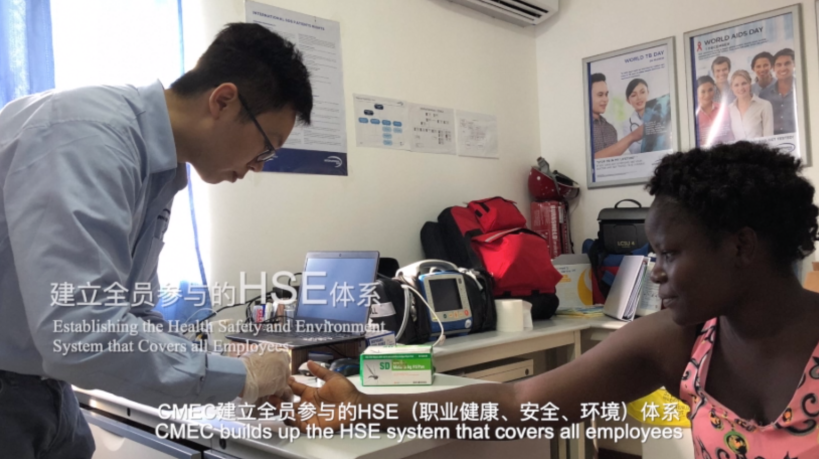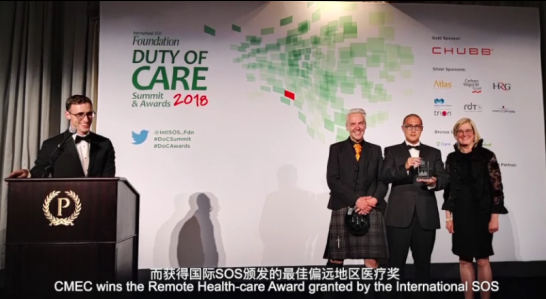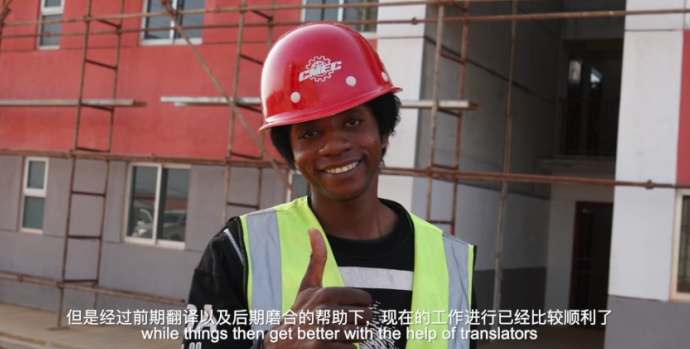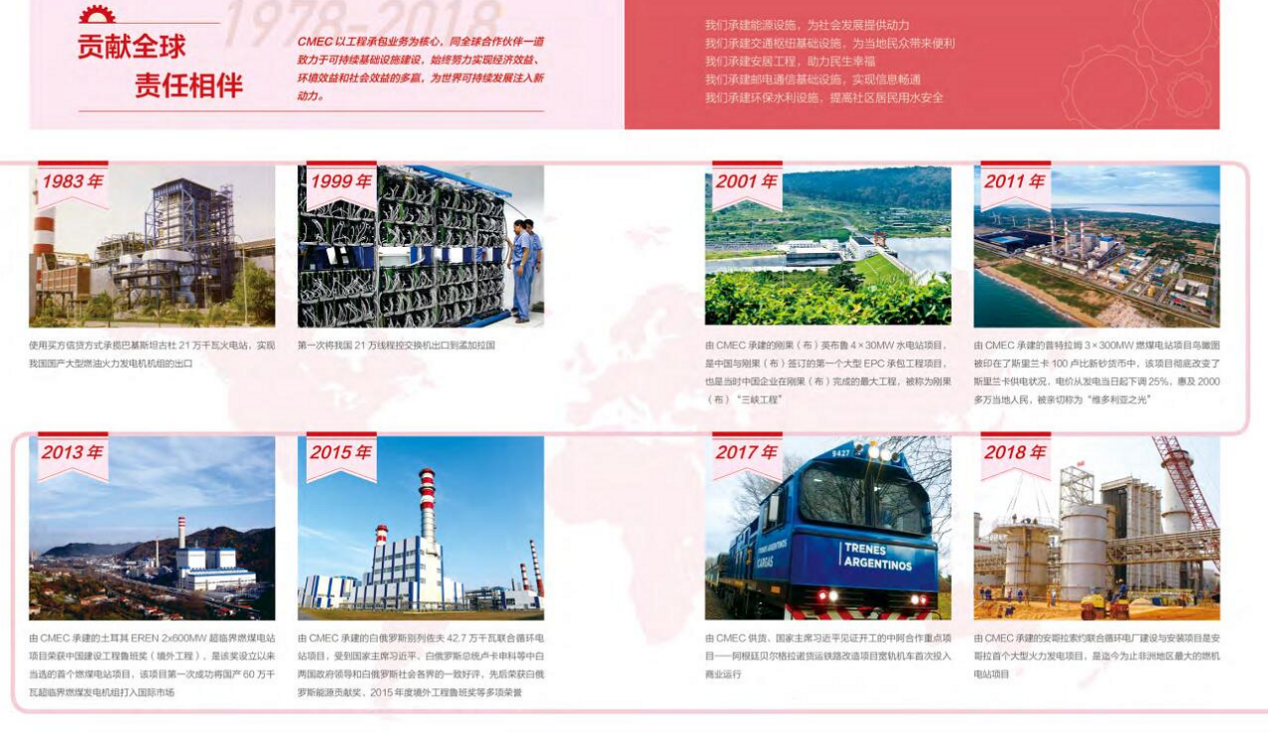 As the "Belt and Road" Initiative is deepened, the Company shall take needs of various stakeholders into consideration while devising overseas development strategies and adhere to the concept of sustainability and win-win result amid operation. CMEC actively fulfills its social responsibility in overseas projects and shoots the overseas social responsibility Video from the perspectives of stakeholders. The Video not only serves as an important tool for communicating with stakeholders including investors, employers, government, customers, employees, suppliers, subcontractors, communities and the public, but also is significant for seizing the "Belt and Road" opportunities, improving internal operation and realizing long-term development of the Company.
Looking forward, CMEC will continue to improve its capability in performing social responsibilities, innovate in forms of expression and ways of transmission, implement the SDGs of the United Nations, respond to national development strategies, promote industrial healthy development and satisfy the need of social development, striving to help people worldwide live a quality life.
The Video is available at https://mp.weixin.qq.com/s/3Yu0AaPE9jz-02L7-_5W0g.